What is parkrun?
Parkrun is a collection of 5k running/walking events that take place every Saturday morning at over 1,400 locations in twenty-two countries across five continents. Parkrun events are free to enter and are run by volunteers, supported by a small group of staff at its headquarters.
Who can take part?
Anyone can take part, from pensioners to parents with their children, people with their dogs, wheelchair users (depending on the course terrain), people pushing buggys, club or casual runners and walkers.  
How does it work?
Parkrun takes place at the same time, at the same place, on the same course, once per week. Participants arrive shortly before the start time and wait near the starting line.  The Run Director gives a short health and safety briefing and blows the start whistle. 
To have a run time recorded participants are asked to register for free on the Parkrun website, print out a personal barcode and bring it to the run. This needs to be done just once with the barcode then valid for any subsequent Parkrun in the world.  Runners and walkers can still participate without registering – it just means they wont have their finishing time recorded on the parkrun system. 
There is 1 (or more) local Event Directors for every parkrun. The Event Director takes on the overall responsibility for the event and is the liaison person with parkrun HQ.  The Event Directors for Clonbur Woods parkrun are Yvonne Peters Hill and Shauna Feerick and they can be contacted to answer any queries on parkrun.
Can I volunteer to help?
Yes, absolutely. Each parkrun is managed entirely by volunteers. There are several set tasks such as timekeeping, barcode scanning and marshalling which need to be done to allow the event to happen. A good rule of thumb for participants is to offer to volunteer 1 in 8 parkruns. This allows everyone to participate fully. If you would like to volunteer, please speak to the Event Director before or after parkrun on Saturday. 
More about Clonbur Woods parkrun
The first parkrun took place in Clonbur on May 18th 2019 with over two hundred walkers and runners of all ages taking part.  It was a fantastic occasion with the entire village coming out in force to support the inaugural event. There is currently close to 100 participants on average taking part every Saturday.  This is a fantastic achievement for a village the size of Clonbur  - our attendance compares very favourably to some of our bigger neighbours such as Oughterard which averages 48 participants weekly.  
We believe our attendance is so high for a few reasons – firstly we are really blessed to have the beautiful surroundings of Clonbur Woods as our backdrop. Even on the wettest of days there is something magical about getting into the woods to complete the parkrun loop and it never fails to soothe the soul.
Secondly we have a fantastic team of volunteers who enthusiastically encourage all participants along the course.  The banter and support every week really adds to the craic and enjoyment of the event. 
Thirdly we have 2 great venues in Ti Bhurca and Fairhill House hotel which take it in turns to host all parkrunners and volunteers for a well deserved cup of coffee and home baked scone after each event.  This can often be the most enjoyable part of the run and it adds a very welcome social element to the event.  Both venues very generously offer the refreshments at a subsidised rate so it really is accessible to all. 
Additionally "parkrun tourism" is an established benefit of parkrun. Many participants set themselves a target of taking part in many different parkruns – for example they might want to complete all parkruns in a county or maybe even a country. Or when on holidays they will seek out the local parkrun and take part. We have already met many tourists and visitors in Clonbur who have specifically come to take part in our parkrun. 
The benefits of parkrun are many and there are absolutely zero drawbacks: Its free, it is good for your physical and mental health, it's sociable and it brings lots of visitors to the area.  It couldn't be easier to get involved – register for free on www.parkrun.ie, print out the barcode and come and join us next Saturday 9.30am!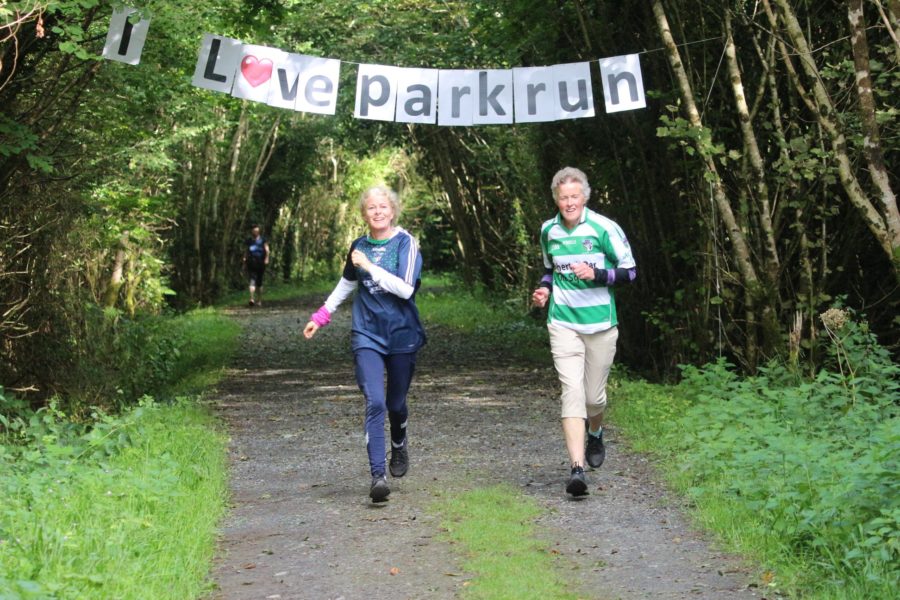 How to Join
Clonbur Woods parkrun takes place every Saturday at 9.30am. We meet at the entrance to Clonbur Woods next to Burke's garage. Parkrun is free and everyone is welcome to join.
If you would like your run or walk time recorded please register for free, print out a personal barcode and bring it on Saturday.