Clonbur Pride Tidy Towns
The group was re-established in 2012 after a hiatus of a number of years. Great credit must be given to our late post mistress, Maura Whelan who was the driving force behind Clonbur Tidy Towns for many years. Ar dheis Dé go raibh a anam dílis.
Clonbur Tidy Towns is community driven and community supported. We have greatly enhanced the appearance of the village and the surrounding area. In conjunction with Clonbur Community Council and with the financial support from Galway County Council, we promote Clonbur by updating our Facebook page, producing flyers and leaflets and improving signage.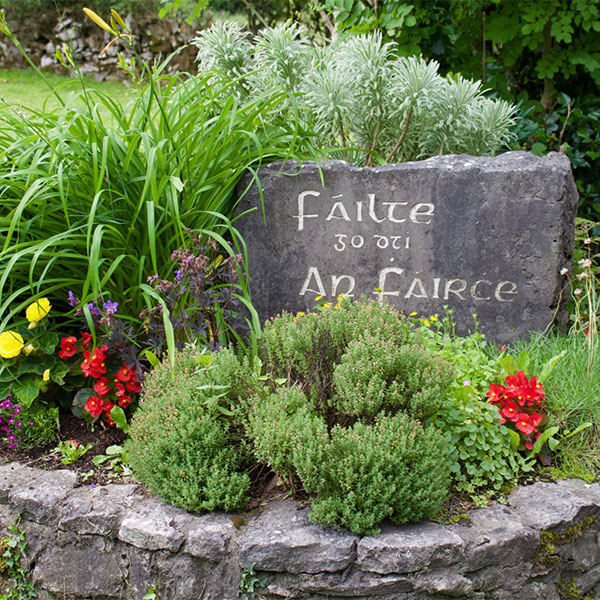 We have provided; along with the local community employment groups, namely TUS, RSS and CE scheme, the construction and installation of new flower containers for the village.
We have also maintained and upgraded the existing beds around the village.
We have organised weekly litter pick ups in Clonbur village and on the approach roads.
We are especially proud of the success of our 'Adopt a Patch' programme, through which many people have committed to keeping their own area litter free.
We work closely with the local County Councils, businesses, schools, angling club and Coillte to improve Clonbur for locals and visitors alike.
From the beginning, we wanted the Clonbur area to look as bright, tidy and litter free as possible for those who live here and of course for those who visit.
We have always felt that there is no point in seeking Geopark status or promoting the Clonbur area as a tourist destination if the first thing our visitors see, is our beautiful area marred by litter.
And while we might never achieve a fully litter free environment all of the time, we have greatly improved on the level of litter on our streets and roads and we continue to strive for a litter free Clonbur.
The whole community, including the local business community, Clonbur Community Council, Clonbur Angling Club etc supports us in many ways, not least of which, our many fund-raisers which include; cookery demonstrations, Christmas cake and flower arranging demonstrations, plant and garden demonstrations, cake and plant sales etc, and for this we are very grateful.